Frequently Asked Questions
Have questions? We're here to help!
If you can't find the answer you are looking for in the FAQs below don't hesitate to reach out to oleloteam@machinegenius.com for additional assistance.
Do I need to have hearing loss to use Olelo?
Yes. Only people that have difficulty using the phone due to hearing loss are permitted to use Olelo. This isn't just our policy, it's the law. Because Olelo is supported by the Federal TRS / IP CTS fund, only deaf and hard-of-hearing users can register for Olelo.
What is "IP CTS"?
Internet Protocol Captioned Telephone Service (IP CTS) is a form of telecommunications relay service (TRS) that permits an individual who can speak, but who has difficulty hearing, to use a phone to simultaneously listen to the other party and read captions of what the other party is saying.
Is the Olelo service free?
Olelo is free to use for qualified users with hearing loss. We are able to offer Olelo at no cost to our users because we are part of the FCC IP CTS program, whose mandate is to ensure functionally-equivalent phone service for the deaf and hard-of-hearing. The IP CTS fund compensates us for the services we offer, allowing us to provide the service at no cost.
Why do I need to give personal information to sign up?
As part of the requirements of the IP CTS program, we need to validate that our users are actual people and not fictional or fradulent signups. This is the only reason we ask for your registration information, and it is never sold, shared, or used for third-party marketing or any other purpose.
How Do I Update My Olelo App?
If your phone does not make automatic updates to the Olelo app, you can manual update Olelo to make sure you have all the latest features.
For iPhones and iPads
Open the App Store on your device
Tap on your account information in the top right corner
Scroll down to "Upcoming Updates"
Find the Olelo app and press "Update"
For Android Phones
Open the Play Store on your device
Tap on your account information in the top right corner
Go to "Manage Apps & Device" and then "Available Updates"
Scroll to find the Olelo app and tap "Upgrade"
How can I change my Caller ID?
To make it easy for the people you're calling to know it's you, Olelo allows you to use your current mobile phone number as your Caller ID! To enable or disable caller ID, click on the menu in the Olelo app, and select My Caller ID.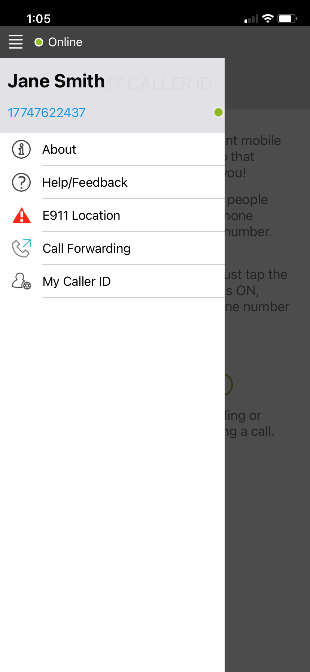 How do I change my number?
To change the phone number associated with your Olelo account due to a number change or error in registration, contact us at oleloteam@machinegenius.com and we'll be happy to help!
We are unable to change your Olelo number to something specific, like your own personal phone number, because you own that number already. However, to improve your Olelo experience and make it more personalized, we can help you turn on Caller ID and Call Forwarding features. This will allow you to answer calls made to your personal number through Olelo for captioned calling, as well as show your number to others when you're making a phone call.
Can I use Olelo with my Apple Watch?
Olelo is not yet compatible with Apple Watch. However, look out for product updates, as this might change!
Will Olelo work with my jitterbug phone?
At this time, the Olelo App does not work on Jitterbug phones.
How can I move the Olelo app on phone home screen?
Moving the Olelo app on your phone's home screen is easy. Simply press on the icon, and hold until you feel it vibrate. You'll then be able to drag the icon to wherever you would like it on your screen!
Changing font size
When on a call, look for the A's in the bottom right corner of your screen. Pressing on the larger A will make the text size bigger, and the smaller A will shrink the text size down.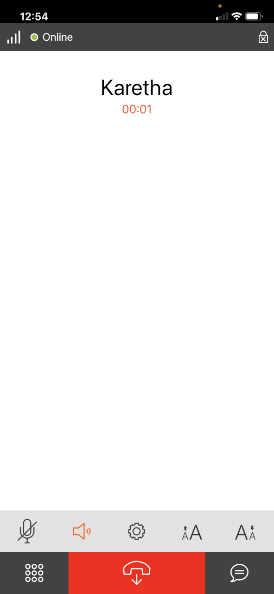 You can also change this and the colors of the captioning in the settings under the main menu: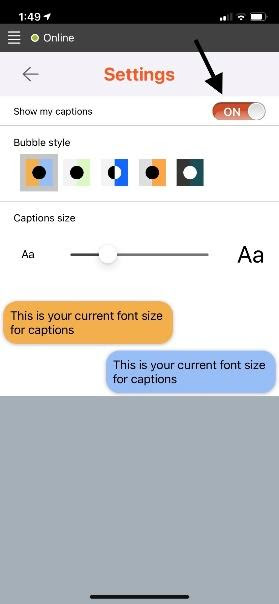 Why don't I see captions on my calls?
This could be due to a setting which stops the transcription for your side of the call, so that only the person you are speaking to will be captioned. Go to the Settings tab in the menu located at the top left corner of the Olelo app. Once there, you will see the option to show your captions.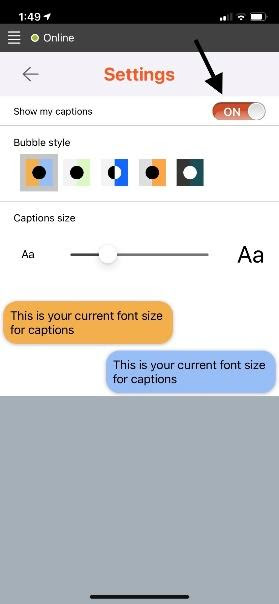 911 / Emergency Calling
*911 Calling Advisory: Calling 911 from a landline remains the most reliable method of reaching emergency response personnel.
Olelo requires our users to have registered information that complies with United States 911 regulations. To ensure that your correct address is entered into your Olelo app, go to the menu and select 911 Location. You can then verify your address, so that in case of an emergency, help will know where to go.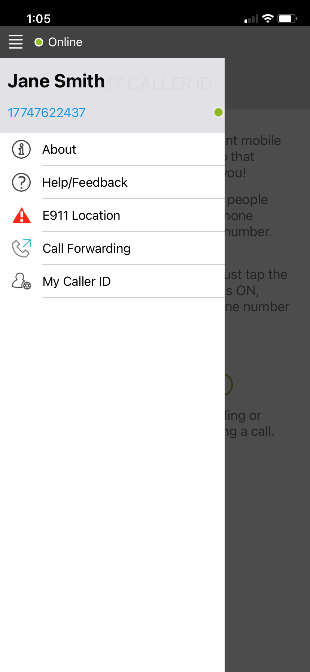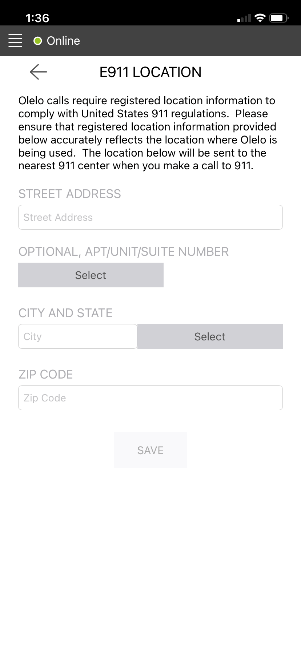 Please also see our Emergency Calling page for more information.
I am having difficulty with the volume on Olelo.
We highly recommend using Olelo with speakerphone on. This allows you to easily read the closed captioning on your call while hearing the call out loud simultaneously.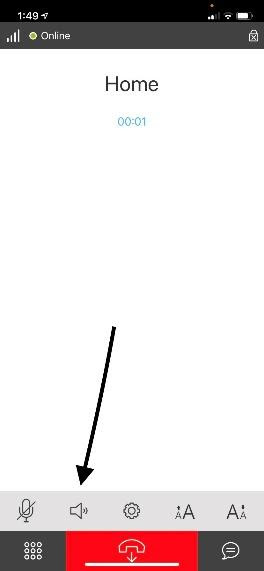 General troubleshooting
If something isn't working quite right, here are a few general tips that might help you solve the problem!
Try closing and re-opening the Olelo App
Try restarting your phone
Check that your mobile data is functioning correctly, or that you are properly connected to Wi-Fi
Can I use Olelo to make international calls?
Making outgoing international calls is not supported on the Olelo app, but international calls can be received and transcribed.
Do you support text messaging?
As Olelo is primarily a call captioning app for the deaf and hard of hearing, texting is not yet supported on the Olelo app.
How do I delete calls from my history?
You can delete call transcripts in the Call History tab by tapping on the trash can icon in the top right corner and choosing which transcripts you would like to delete. To delete all of your call transcripts, hit the select all button (the three squares with a check mark in it). Another way to delete transcripts is by sliding the call you'd like to delete to the left while in the call history tab. Be advised that once transcripts have been deleted, they cannot be recovered.